Department Overview
Year of Establishment
U. G.: 2012-2013 (Intake : 60)
Duration: 4Yrs.
DTE Code: 6768
Choice Code: 676861210
Affiliated to: Savitribai Phule Pune University, Pune.
Contact: 9822167539, 9765579039

HOD Desk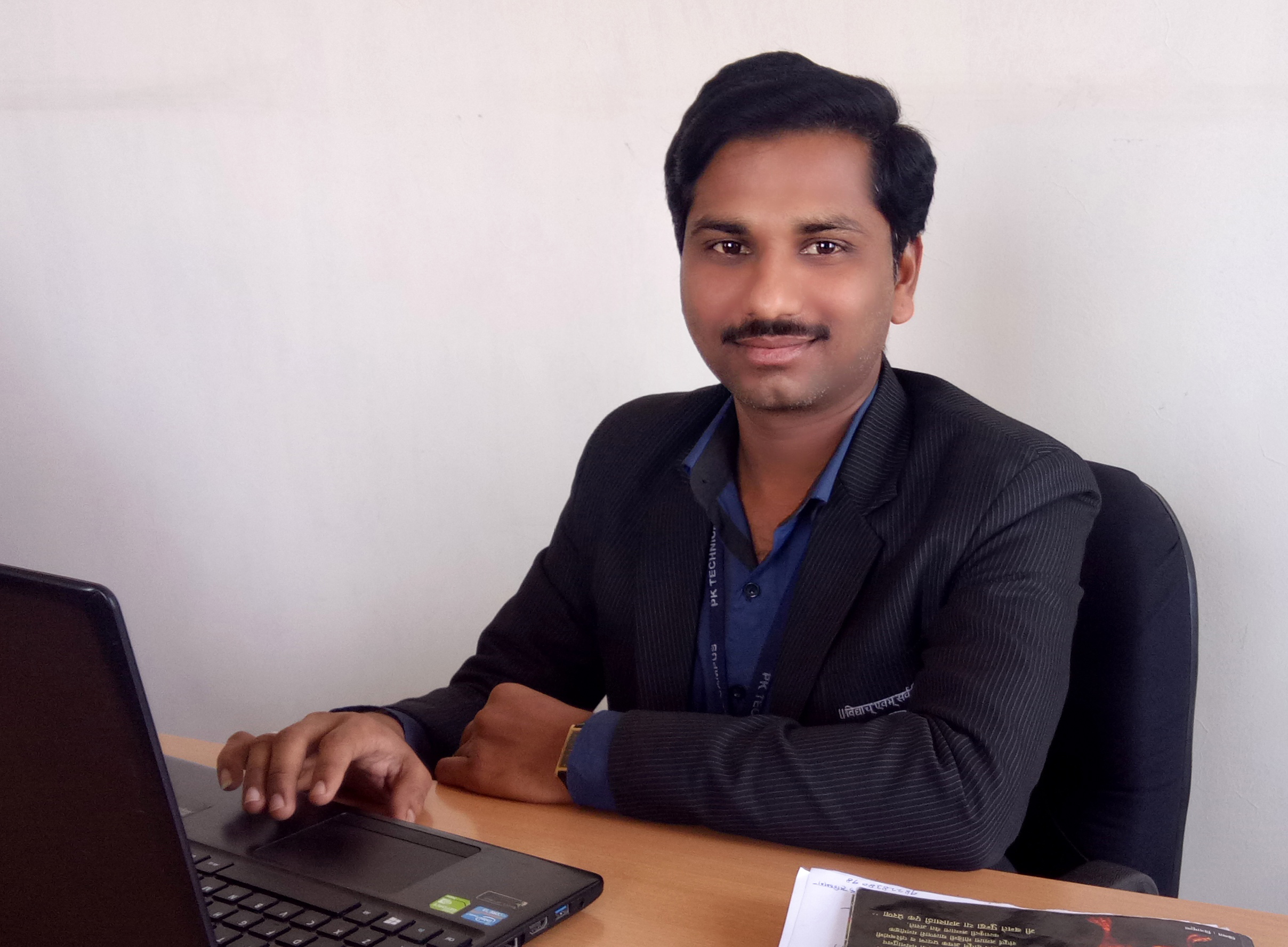 The Mechanical Engineering Department is well equipped with laboratories, qualified and dedicated faculties and staff. Our faculties are creating an innovative and research culture in Diploma and UG students. Our students participate in various co-curricular and extra-curricular activities at state and national level & won awards. The Mechanical Engineering Department is implementing the outcome based education at all the levels.
Mechanical Engineering Department is working on four pillars structure for overall development of student. The first pillar is academic excellence; this pillar is established, through curricular & co-curricular activities. The second pillar of research & innovation is taken care through innovation center, product innovation lab. The third pillar of professional competence is achieved through various student development activities carried out by training, placement & product development cell. The last pillar of social commitment is imbibed in the student through NSS activities societal importance projects by students. To impart technical educational and training of exemplary academic standards to our students is our vision.
Mechanical Engineering department has a rich tradition of pursuing academic excellence and providing congenial environment for the overall personality development of its student. I feel confident that the department is progressing in the right direction and I congratulate the faculty and staff for their hard work and whole-hearted efforts to make the department the choicest destination for aspiring mechanical engineers.

- S. N. Patil.
Head of Department.
Result Analysis
Academic Year: 2019-20
SE TOPPERS
| Sr. No. | Name of Student | SGPA |
| --- | --- | --- |
| 1 | KOKE RAHUL SHYAM | 9.06 |
| 1 | CHAKRAWAR SAINATH SAKHARAM | 8.56 |
| 1 | KHOSE RUSHIKESH JAGAN | 7.56 |
TE TOPPERS
| Sr. No. | Name of Student | SGPA |
| --- | --- | --- |
| 1 | GUNJAL SHITAL BHAUSAHEB | 8.35 |
| 1 | KEDAR SOURABH AJINATH | 8 |
| 1 | DHAMALE SAYALI NAVNATH | 7.59 |
BE TOPPERS
| Sr. No. | Name of Student | SGPA |
| --- | --- | --- |
| 1 | POTALE ABHISHEK BALASAHEB | 9.13 |
| 1 | KILLEDAR PRAKASH MADHUKAR | 8.07 |
| 1 | GANDHUL SACHIN SAVLERAM | 7.68 |
Academic Year 2020-21
SE Toppers
| Sr.No. | Student Name | SGPA |
| --- | --- | --- |
| 1 | Vishwakarma Vishal Santosh | |
| 2 | Bhosale Vijay Anandrao | |
| 3 | Walunj Omkar Rajendra | |
| 4 | Rathod Vikrant Vishal | |
TE Toppers
| Sr. No. | Student Name | SGPA |
| --- | --- | --- |
| 1 | Buradkar Mahendra Vitthalrao | 9.74 |
| 2 | Todkari Vishal Shankar | 9.67 |
| 3 | Suryawanshi Yogesh Kashiram | 9.65 |
BE Toppers
| Sr. No. | Student Name | SGPA |
| --- | --- | --- |
| 1 | Hadawle Rohit Ramdas | 8.64 |
| 2 | Gunjal Shital Bhausaheb | 8.36 |
| 3 | Khare Karan Bhaskar | 8.35 |
Industrial Visits
| Sr. No. | Visit To | Topic | No. of Students |
| --- | --- | --- | --- |
| 1 | SUYASH ENGINEERS AND AUTOMATION PVT LTD. , BHOSARI, PUNE. | (Subject:- Hydraulics and Pneumatics) HYDRAULICS AND PNEUMATICS | 22 |
| 2 | VOLKSWAGEN, CHAKAN, PUNE. | (Subject:- Metrology and Quality Control) ASSEMBLY LINE | 30 |
| 3 | FORBES MARSHALL, CHAKAN, PUNE. | (Subject:- Metrology and Quality Control) AUTO PARTS | 40 |
| 4 | DIMBHE DAM, NARAYANGAON, PUNE. | (Subject:- Energy Engineering)) GRAVITY DAM | 40 |
| 5 | BHIMASHANKAR SAHAKARI SAKHAR KARKHANA AMBEGAON, PUNE. | (Subject:- Thermodynamics) SUGAR INDUSTRY | 60 |
| 6 | DIVISION S. T. WORKSHOP , DAPODI, PUNE | (Subject:- Machine Shop) INTERNAL COMBUSTION ENGINE EQUIPMENT | 53 |
| 7 | SPARK MINDA, PUNE- CHAKAN, PUNE. | (Subject:- Metrology and Quality Control) ) AUTO PARTS | 20 |
| 8 | SANY HEAVY INDUSTRIES KHED, PUNE | (Subject:- Metrology and Quality Control) AUTO PARTS | 100 |
| 9 | KUNDAN CARS PVT. LTD , NASHIK, PUNE. | (Subject:- Dynamics of Machinery) DEALER CAR | 50 |
| 10 | KATRAJ DAIRY, KATRAJ PUNE. | (Subject:- Thermodynamics) INDUSTRIAL VISIT | 150 |
| 11 | SNEHA INDUSTRIES, BHOSARI, PUNE. | (Subject:- Metrology and Quality Control) AUTO MPARTS | 80 |
| 12 | KUNDAN CARS PVT.LTD. CHAKAN, PUNE. | (Subject:- Dynamics of Machinery) INDUSTRIAL VISIT | 50 |
| 13 | HYDRO POWER PLANT , PUNE, AMBEGAON, PUNE. | (Subject:- Energy Engineering) ELECTRICITY GENERATION | 95 |
Industrial Internship
Following Industrial Internships were provided to the students. (Academic Year 2021-22)
| Sr. No. | Organization Name | Duration | No. of students |
| --- | --- | --- | --- |
| 1 | Bharat Forge Ltd. Pune-36 | 4-6 Weeks | 1 |
| 2 | AMTE Lab, IIT Powai Bombay-400076 | 4-6 Weeks | 1 |
| 3 | DME, PMPML Pune-411026 | 4-6 Weeks | 1 |
| 4 | Impact Technology, Bhosari, Pune-411018 | 4-6 Weeks | 1 |
| 5 | JKP Mould, Yelwadi, Chakan-410501 | 4-6 Weeks | 1 |
| 6 | D.A.S. Ltd. Jotibanagar, Talawade, Pune-412114 | 4-6 Weeks | 1 |
| 7 | Yana Industries, A2/804, Harit Shilp, Rahatni, Pune-411017 | 4-6 Weeks | 2 |
| 8 | Speed Engineering Solution, Hadapsar Industrial Estate, Pune-411013 | 4-6 Weeks | 1 |
| 9 | RSB Transmission (I) Ltd. Sanaswadi, Pune-412208 | 4-6 Weeks | 1 |